Engineering GPR and Remote Sensing
tHE INSTRUMENTS AND EXPERTISE REQUIRED BY ENGINEERING AND GEOSCIENCE PROFESSIONALS
Engineering GPR Applications cover a wide range of sites, projects, and reporting formats. The quality of remote sensing data relies heavily on the collection procedures, equipment, and post-processing capabilities of the service provider. Maverick uses radar and other systems daily across all industries, locations, and conditions.
We specialize in complementing and enhancing the capabilities of engineers, geophysicists, archeologists, and other professionals. We offer a wide range of technologies, analysis tools, and reporting options depending on our clients' needs. The data Maverick gathers are intended to be analyzed, reviewed, evaluated and referenced by the appropriate engineering, geophysical, geological, archeological or other professionals, and Maverick is not engaged in the practice of, or licensed by, any of the foregoing professions.
ENGINEERING GPR APPLICATIONS
Location of buried well heads,underground storage tanks, and related facilities for reclamation projects
Information on concrete structures such as concrete thickness, rebar spacing and placement, void detection, and stirrup locations in beams
Data gathering for concrete structures such as sulphur pits, skids, pedestals, foundations, and footings
Pipeline and roadway route data-gathering relating to subsurface obstacles such as boulders and ground water
CONCRETE ENGINEERING GPR
Maverick provides information concerning rebar spacing, placement, depth of coverage and concrete thickness which is more current, more accurate and more reliable than 30 year old "as-built" drawings. Combined with such abilities as rebar locating for physical verification and measurement this can provide accurate information on which to base load bearing capacity calculations or fulfilled similar needs.
Maverick has been tasked with providing accurate depth-of-coverage information for rebar in concrete girders. Our margin of error was verified at +/-3mm 95% of the time, with the remaining error caused by plastic chairs within the concrete used to hold the rebar in place. Such fine margins of error require very specific field calibration techniques but are not outside the capabilities of the systems in question.
If coring is required in concrete then damaging rebar greatly reduces the strength of the slab. Knowing where the rebar is located prior to coring can prevent this damage and preserve more strength in the structure. Historically, this work was performed using X-ray and involved working outside regular hours, evacuating large areas, arranging for special security and safety precautions and then dealing with radioactive material. GPR has been used in active hospitals, schools, and shopping centres with no need to evacuate during crowded open hours.
VOID DETECTION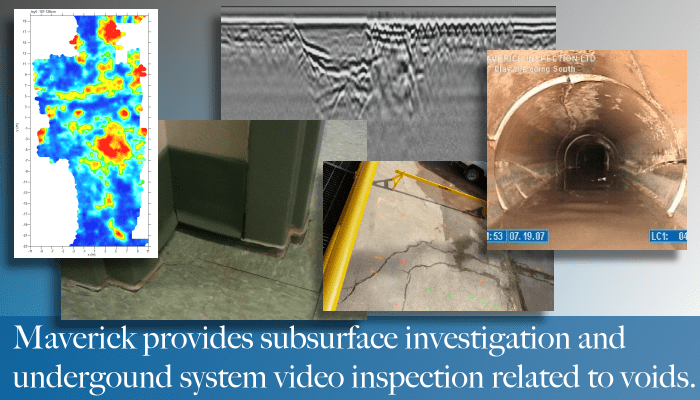 GPR can distinguish between slab-on-grade and suspended slabs. Therefore we can locate voids beneath concrete pads. These voids may be the results of inadequate compaction during construction, washouts or erosions. The information can then be tied into site plans and additional analysis and corrective actions can be performed.
PHASE I & PHASE II RECLAMATIONS
Reclamation work, environmental engineering and other testing requires the drilling of boreholes. Maverick Inspection Ltd. provides private utility locates, on private property using a combination of EM detection and GPR systems.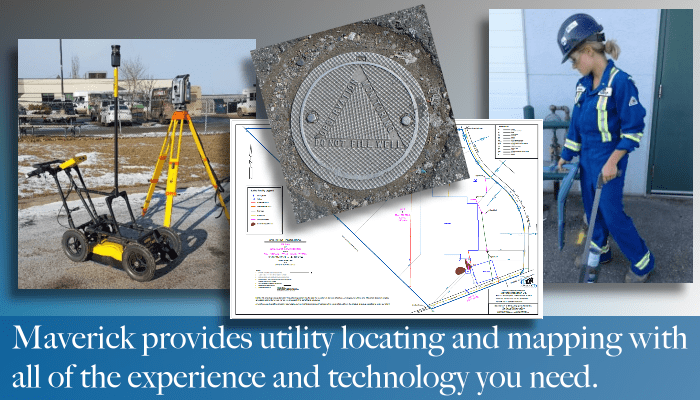 This allows us to locate both metallic and non-metallic lines with and without tracer wires. In addition, we have used GPR to locate and delineate the boundaries of saturation plumes & contamination plumes (when other technology cannot be deployed), trenches, underground storage tanks and other targets of interest.
WELLHEAD LOCATING
Maverick Inspection Ltd. has on numerous occasions located the precise location of formerly abandoned hydrocarbon wells. The wellheads were removed above ground, and in many cases the area was leveled, tilled and farmed for decades, but the telltale signatures of deep ground disturbance and metal well casings remained visible to the GPR system. We do require a starting point in order to locate such elusive targets, but provided with a rough survey point, we can reduce the target area to less than a meter, which is then easy to hydrovac and confirm.
Maverick can also provide additional remote sensing options for locating wells, such as magnetometry and electromagnetic profiling. The selection of technology depends on site factors, both subsurface and visible. See Maverick's Abandoned Well Locating Technology Case Study for a comparison of these options.
CRITICAL LIFTS AND SINK-HOLES
Super heavy crane lifts require stable footing in order to control their heavy loads at arms length. Stable footing requires outriggers, counterweights and solid ground. But what happens if any of these three factors are missed? Outriggers and counterweights can easily be applied and are engineered into the lifts in the first place. Solid ground is generally assumed but the assumption can be verified by using GPR in order to locate potential sink-holes, saturation plumes, sheers and other invisible subsurface hazards before the lift.
We have developed applications for GPR, which are engineering specific, and can be used to meet your needs. These applications include accurate positioning systems for correlating results, incorporating utility locating systems, applying additional remote sensing technology when required, and customizing reporting and data presentation for engineers and geoscientists.
Would you like more information?
Contact us and we will discuss your project requirements with you. We can provide examples of our subsurface investigations for engineering GPR and other remote sensing applications and help you choose the best solutions and reporting options.