From Drones to Robotics to Borescopes and Measurement Systems
WHAT IS REMOTE VIDEO INSPECTION (RVI)?
Remote Video Inspection (RVI) involves camera inspection beyond traditional borescopes and pipe cameras. RVI (also called CCTV Inspection) refers to the use of video camera systems to image the internals of structures, equipment, and components that are otherwise inaccessible due to physical configurations, safety concerns, or other limitations. Video inspection cameras allow you to locate and inspect key areas of concern without excessive disassembly of equipment or systems and without the need for dangerous confined space entries.
Camera inspection systems can range in size from several millimetres in diameter (such as video scopes) to large robotic wheeled or tracked pipe/pipeline crawlers. The choice of technology and method depends on the specific application, such as industrial drone inspections of internals of stacks and vessels.
Sewer inspection is the most common camera inspection application in North America due to the volume of aging drainage infrastructure.
However, the equipment and experience requirements for Oil & Gas, Power Generation, Pipeline, and other industrial camera inspections go far beyond the basic tools and methods required for sewer camera work.
Maverick Inspection Ltd. in Edmonton, Alberta is a leader in providing solutions and finding innovative new applications and technology for remote camera inspection in Canadian industry. This includes pipe inspection, pressure vessel inspection and turnaround support.
Remote Video Camera systems are often complemented by other technology such as Ground-penetrating Radar, Infrared Thermography, Utility Locating, Retrieval Systems, and Laser Pipe Profiling. For some applications, measurement software can be used for further analysis of the video inspection results.
Please visit our RVI Video & Imagery Gallery page to view images and video footage of video inspections of heat exchanger tubes, process piping, process pressure vessels, drainage systems, underground tanks, reactors, coatings, boilers, rotating equipment, refractory, pipelines, flare stacks & chimneys, and more!
WHAT SORT OF VIDEO INSPECTION EQUIPMENT OPTIONS ARE AVAILABLE?
As Canada's leading video inspection service provider, Maverick maintains an arsenal of different camera inspection systems. No one or two pieces of equipment are sufficient for inspecting the broad range of pressure vessels, pipelines and piping, rotating equipment and heat exchangers. The following video equipment examples below are just some of the video camera options that are essential for hard-to-access scenarios.
Video Scope / Borescope/ Fiberscope:
A video scope, fiberscope or borescope is a small diameter high-resolution, flexible means of viewing the inside of tubes, pressure vessels, mechanical components, or other equipment with limited accessibility. They are flexible, they have high-intensity lighting, and they can include features such as four-way articulation. Maverick often uses these video inspection systems with software to measure features.
Flexible and portable equipment
High-intensity LED lighting
Articulating heads with a variety of lenses
As small as 6 mm in diameter
Ideal for inspecting rotating equipment, engine components, small vessels, equipment with very small inspection ports
Used with measurement software for some applications
DVR (Digital Video Recorder) Push Camera Systems:
The DVR push camera inspection systems are often called sewer pipe cameras, pipe cameras or borescopes and are ideal for small diameter piping (as little as 3/4″) for down-holes, pressure vessels and other applications where a rugged, push-style camera head is required. There are a variety of sizes and features to fit different applications. Often they are employed for retrieval scenarios when the path to the foreign objects or debris is inaccessible for a robotic system. These systems are often used for piping and pipeline camera inspections.
Ideal for small-diameter pipe with multiple bend configurations, pressure vessels, pipelines and other applications where a rugged, push-style camera head is required
Often employed for retrieval scenarios when the path is inaccessible for a robotic system
Inter-changeable camera heads for different applications
Great for underwater applications (some systems can work in depth ranges up to 1000 feet)
Full remote control of features such as panning and tilting of the camera head, lens focusing, optical zoom, and light
CSA Class 1/ Division 1 Explosion-proof systems available
Robotic Video Crawlers & PTZ (Pan/ Tilt/ Zoom) Camera Systems:
Although robotics are often limited to larger access points, they have the advantage of full remote control of features such as panning and tilting of the camera head, lens focusing, optical zoom, light intensity adjustment, telephoto and wide-angle viewing, drive system functions, laser measurement, and many other servo-controlled options. They include stand-alone camera heads and pipe crawler or tractor delivery systems. There are a range of systems available, depending on the specific conditions of inspection environments such as explosive atmospheres, underwater or down-hole depths, or the overall layout of the inspection area. Robotics excel in situations involving complex remote navigation such as piping bends, foreign object retrievals, and large vessel inspections. Pipeline camera inspections typically involve robotic systems.
Maverick employs a large number of separate Robotic Video Inspection systems for use in a wide variety of projects and environments. In addition to intrinsically safe pipe cameras, our systems include CSA-Rated explosion proof camera crawlers. These robotic, self-driven pan/tilt & zoom systems can be deployed through access openings ranging from as small as 3″ all the way up to 72″ vessels and pipes. The terms people sometimes use to describe even robotic video inspection systems include pipe cameras, sewer cameras, fiberscopes, borescopes and snake cameras.
Full remote control of features such as panning and tilting of the camera head, lens focusing, optical zoom, and light intensity adjustment
May include laser pipe profiling and measuring capabilities for: ovality, deformation, scale buildup, wall loss and true cross-sectional measurements performed
Can access openings ranging from 3" to 72"
Full drive systems, forward, reverse with steering capabilities
Long-range capabilities for pipelines & drainage system sewers
Includes stand-alone PTZ (Pan/Tilt/Zoom) camera heads for manhole and pressure vessel observation surveys
Excel in situations involving complex navigation: piping bends, foreign object retrieval, flare stacks, pipelines and large vessel inspections
Can work in explosive and hazardous atmospheres, as well as underwater (CSA Class I Division I and intrinsically safe models are available)
Industrial Drone Inspection Systems:
Although drones have become very popular among hobbyists and other users, Industrial Drone Inspection requires specially designed equipment and specific training and procedures. Maverick has decades of experience providing inspection services for Alberta industry, and we know what it is involved to work diligently and professionally.
For internal drone inspections, Maverick deploys Flyability's ELIOS drone. It is engineered to provide safe and effective video inspections of plant equipment internals. ELIOS is collision tolerant and made for stacks, chimneys, vessels, piping, and other industrial internal inspections.
Maverick also provides traditional aerial drone inspections for more commonplace applications such as roof scans, building envelopes, and aerial mapping. Combined with Maverick's CAD, GIS, Geomatics and mapping capabilities, drones are powerful tools and not just cool toys.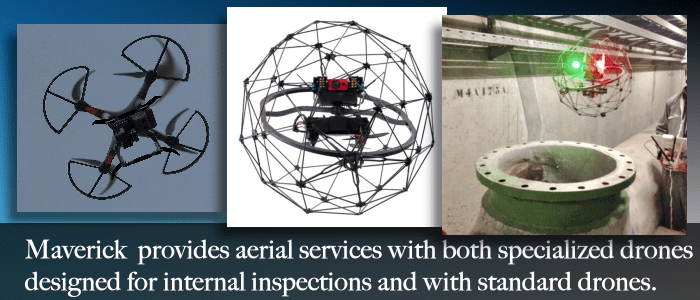 Custom Video Inspection Solutions
There isn't an inspection or delivery system ready out-of-the-box for every real-life scenario. At Maverick, we have full Research & Development and Fabrication capabilities for quick turn-around design and build times. We create cost-effective, industrial inspection tools and platforms for our industrial inspection professionals. We also source out and introduce international innovators with cutting-edge products and services.
Retrieval Inspection Tools:
There are times when foreign objects and tools are accidentally dropped into vital equipment components such as rotating equipment, suctions lines and pressure vessels. Extracting by hand can be impossible without system disassembly. Maverick carries various styles of retrieval equipment that are either robotic style, push grapplers, and custom systems. These tools are used in conjunction with remote video cameras during an inspection. Maverick also provides R & D support for rapid development of retrieval tools for sites and job scopes with unique challenges and tight timelines.
Digital Measurement Software and Laser Profiling:
Maverick Inspection Ltd. provides non-contact measurements with various software solutions.  These are effective for small-scale defects including pitting, cracks, welds, joints, scale thickness and other concerns. In addition, we provide Laser Pipe Profiling of the interior of pipes and small vessels to measure ovality, deformation, scale build-up, wall loss, and true cross sectional measurements.
WHAT ARE SOME COMMON REMOTE VIDEO INSPECTION APPLICATIONS?
Maverick has a proven video inspection service track record including the fastest 24:7 response times for emergency inspections and troubleshooting. We work with clients to plan video inspection for  scheduled turnarounds. We assist in the development of predictive maintenance execution plans, and sourcing out or developing unique inspection technology. We have provided RVI equipment and expertise to maintenance groups, consultants, engineers, integrity groups and major industrial and commercial corporations and municipalities across Western Canada and internationally.
WHAT INDUSTRIES USE REMOTE VIDEO INSPECTION?
Mining & Exploration
Infrastructure
Law Enforcements
Archaeology and Forensics
Automotive
Engineering
Manufacturing
Contact Us for more information on Remote Video Inspection or any of Maverick's other services.