MAVERICK'S
PRIMARY 
SUBSURFACE
TECHNOLOGY
Ground-penetrating Radar (GPR) is the flagship technology in Maverick's Subsurface Division. GPR is the science of penetrating the subsurface with radio waves in order to gather information about underground features and facilities.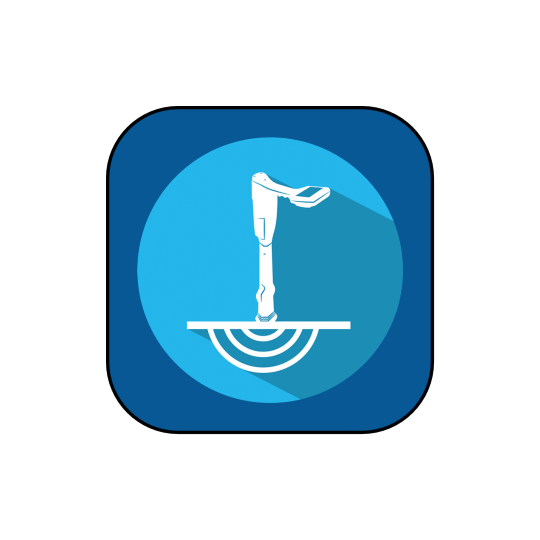 Utility Locating
Direct connect locating with radio detection wand and transmitter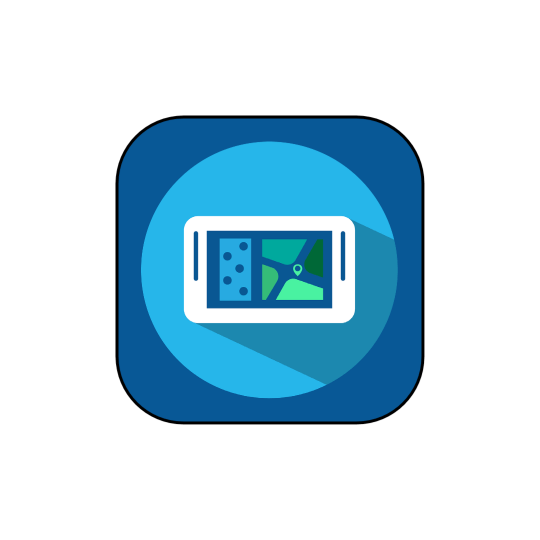 Geomatics Mapping and Modeling
Identify your subsurface utilities with by creating a map or model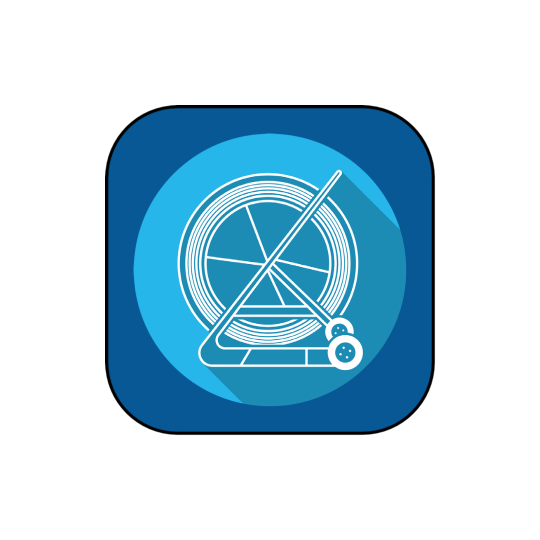 Push Reel
Use a pushreel to identify non conductive pipes.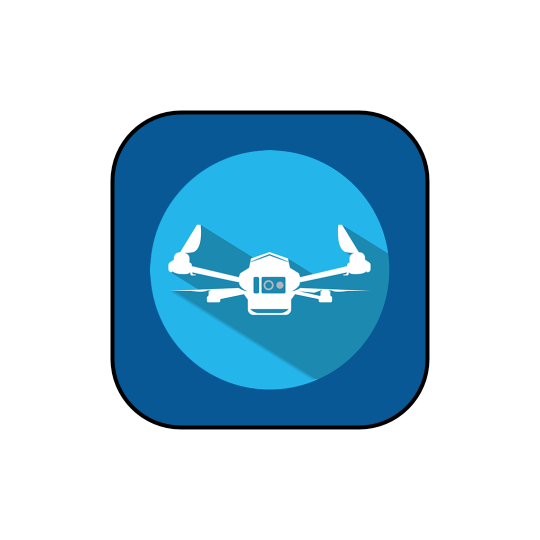 Drone and RPAS Imagery
Enhance your project with realtime imagery or maps
WHAT SETS MAVERICK APART FROM ALL OTHERS?
From Edmonton Alberta, Maverick has been performing GPR services in Western Canada since 2001, on all types of sites for all industries. We have a wide range of systems, not limited to one manufacturer, frequency, make, model, generation, or deployment platform. Every GPR system has strengths and weaknesses, and experience and training is required to select the right option, or even combine multiple frequencies or deploy complementary technologies.
We have the experience and training required for diligent equipment selection, data gathering, software analysis, reporting, and communication of results. We maintain the qualifications and requirements to access the most secure and demanding sites and facilities. With Maverick you are not paying for an untested, eager entrepreneur with a new hardhat and a supposedly user-friendly system fresh out of the box. 
You are purchasing access to a team of expertise dedicated to providing results.
Maverick's commitment to safety, quality, and reliability extends beyond training, experience, and data gathering procedures. Our team includes an Electronic Technologist with a decade of experience testing, calibrating, maintaining, and repairing remote sensing geoscientific equipment on a component level.
About Ground Penetrating Radar
Maverick uses a range of application-specific analysis software systems and methods. We create georeferenced mapping and modeling. We understand our clients' specific data requirements, and we provide reliable results that engineering, geophysical, construction, inspection and other professionals trust.
In addition to Ground-penetrating Radar, Maverick deploys subsurface technology such as Magnetometry, EM Profiling, Seismic, Conductivity, Resistivity, and Acoustics.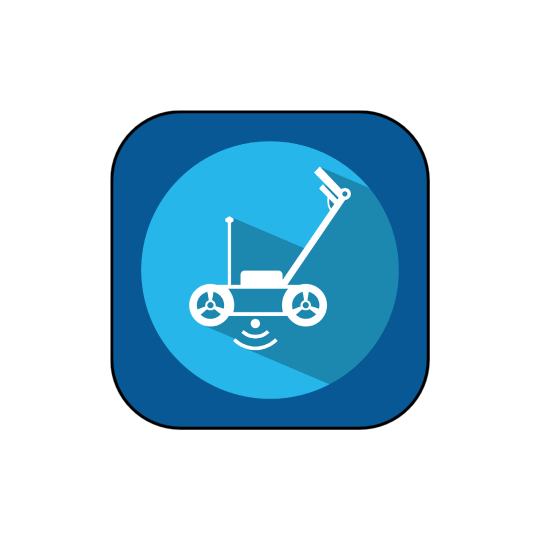 Call For a Quote:
780-467-1606
TYPICAL GROUND-PENETRATING RADAR APPLICATIONS
FAQ: IS GPR LIKE X-RAY RADIOGRAPHY OR ULTRASOUND?
Concrete scans to locate and map out conduits, post-tension cables, rebar, and other features prior to cutting or coring
Mapping out structural steel, concrete thickness, and other structural elements for engineering studies
Underslab void and saturation mapping
Utility locates
Archeology & forensics support
Cemetery and First Nations burial site mapping
Mapping out subsurface features and conditions prior to critical crane lifts
Contamination plume mapping when other technologies cannot be deployed effectively
Locating of underground storage tanks
Gathering data for gravel and placer mining exploration
Sub-bottom profiling of lakes, ponds, peat, etc.
Ice road thickness studies
Asphalt thickness studies
GPR is different from both of these imaging methods. X-ray is actually Radiography, which uses a radioactive source, and requires site evacuations and other risk factors. Ultrasound uses mechanical sound waves to image conductive materials in high detail. GPR uses radio waves, similar to a cordless phone to locate objects within various surfaces.
If there is a situation where Ground Penetrating Radar does not appear to be as effective as desired for any reason, and x-ray is deemed more applicable for the application, Maverick Inspection will inform you. Maverick has a good working relationship with x-ray providers, and understands the benefits and limitations of both technologies. There have even been job-sites in the past where neither technology alone could provide adequate information, and they have been used together to tackle complex inspection scenarios
Every job has it's own unique aspects. Fill us in on some details.
What is Ground Penetrating Radar (GPR)?
Ground Penetrating Radar is a geophysical method that uses ultra-wide band radio waves to image the subsurface. It is a non-intrusive technology that is able to image through concrete, soils, minor vegetation and other conductive mediums. GPR utilizes different frequencies of high and low frequencies dependant on the composition of soils and scope of work being applied to.
Where is GPR best used?
Use of GPR and frequency of antenna are dependant on the scope of work. Higher frequency antennas are used for concrete applications such as identifying embedded features, concrete slab profiling, subsurface void detection and other various aspects of concrete characterization. Lower frequency antennas are typically used across asphalt or soil mediums for detection of non-locatable facilities comprised of concrete, plastics, fiber or non-conductive materials. Other applications of longwave GPR can be dependant on work scope such as: void detection, changes in composition of materials or depth to bed rock, historical areas of excavation or trenching, clandestine burials, old building foundations, subsurface saturation, etc.
What are some limitations of GPR?
Limitations of GPR include: standing water, inability to image through metallic objects, metal fiber reinforced floors, variations in soil composition (i.e., clay, ferrous till), cannot identify specific materials such as gold or precious gems.
Is GPR similar to X-Ray?
GPR greatly differs from X-Ray as GPR uses UWB radio-waves as opposed to a radioactive source of ionizing radiation. No specialized TDG documentation or site requirements area needed while using GPR.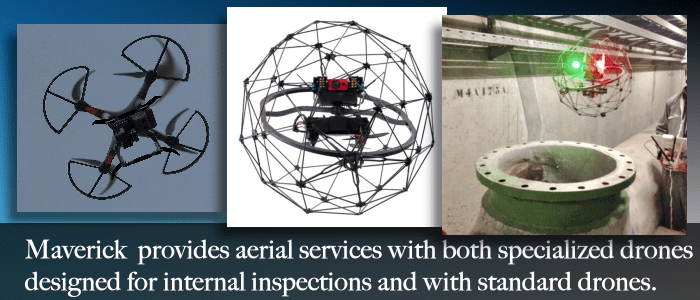 Drone, RPAS and Unmanned Aerial Vehicles
Use drones to navigate into spaces that are inhospitable to manned entry.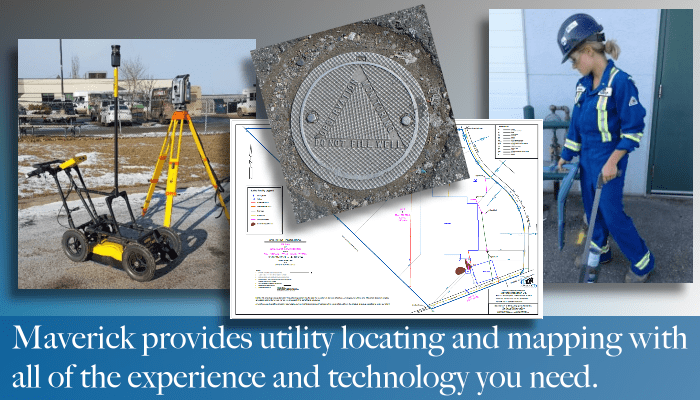 Utility Locating
Between Industrial, commercial and residential utility located Maverick Inspection Ltd. has the experience to get the job done right.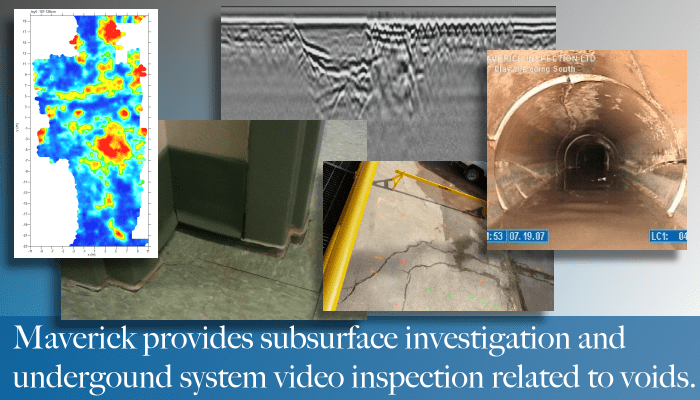 Remote Video Inspection
Use remote video inspection to enhance your sub surface inspection.