INDUSTRIAL, COMMERCIAL AND RESIDENTIAL LOCATING SERVICES
Multiple technologies to identify and locate buried infrastucture. Electromagnetic locators, GPR, acoustics and magnetometry are all utilized to detect utilities buried beneath the surface.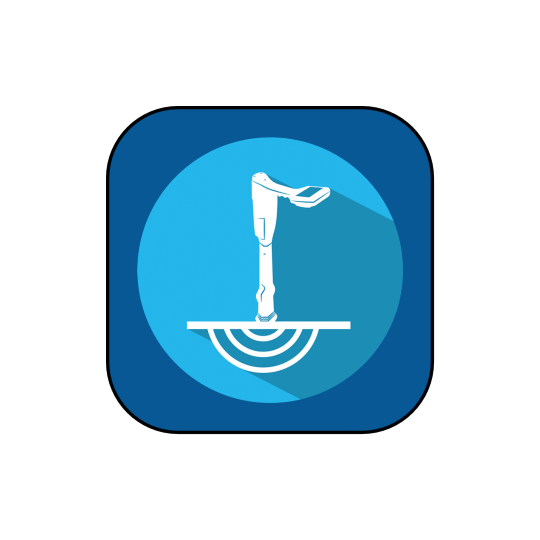 Geomatics Mapping and Modelling
Enhance your project with realtime maps and models of your project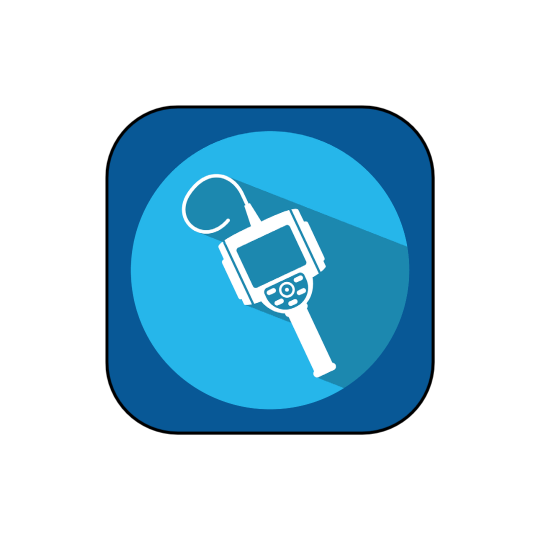 Boroscope
4mm, 6mm, 8mm, HD, Stereo Vision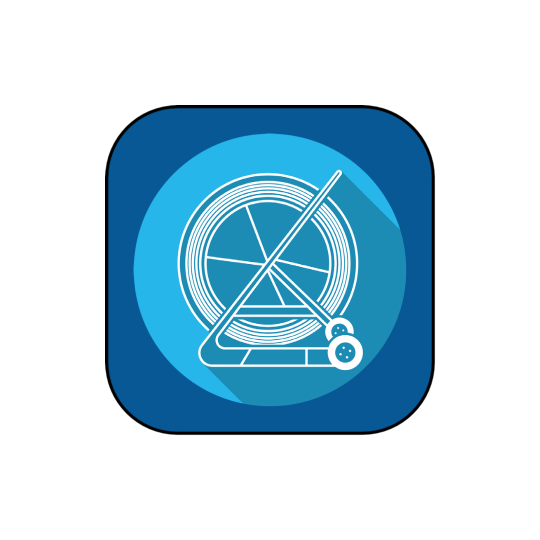 Push Reel
Up to 120m in HD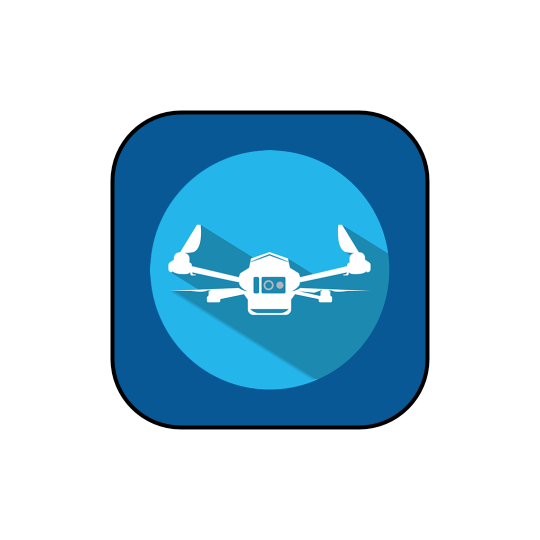 DILIGENCE MEANS THE RIGHT TOOLS, TRAINING, AND EXPERIENCE
Our locating and mapping professionals are available for you. Our locators have the right training, experience, and selection of current technologies and software. Edmonton's Maverick is the first choice for locates of both simple underground systems, and the more difficult and unusual subsurface facilities.
Every day we provide utility locate services ranging from a single bore hole right up to entire pipeline right-of-ways or industrial compounds. We support Alberta's directional drilling companies, pipeline operators, environmental engineers, utility companies, construction companies, home owners, and anyone else planning a ground disturbance.
Utility locates are not optional. Fortunately, construction culture now includes awareness of the serious injuries, death, and financial losses that can result from taking unnecessary risks, and it is generally accepted that ALL underground utilities and facilities MUST be located prior to a ground disturbance.
Locating services are required whether you are building a deck, installing new/repairing existing subsurface utilities, drilling environmental boreholes, or performing any excavation.
CONTACT ALBERTA 1 CALL AND MAVERICK
The first step is to call Alberta One-Call
at 1-800-242-3447
or
Click Before You Dig
 to locate member utilities on public property.
Your second call is Maverick's Edmonton Office at 780-467-1606 to locate utilities and systems outside Alberta One-Call's mandate. One-Call's free, mandatory service notifies member utilities of the project and provides you clearances for your work, however they do not locate and mark out all underground utilities.
Significant hazards such as private electrical lines, gas lines, underground storage tanks and other dangerous or costly facilities must also be located. Maverick locates the additional subsurface hazards with an arsenal of remote sensing technology and can also confirm One-Call's markings for an extra level of diligence.
Maverick Inspection Ltd. is a member of the Alberta Common Ground Alliance (ABCGA)and the Canadian Association of Pipeline and Utility Locating Contractors (CAPULC).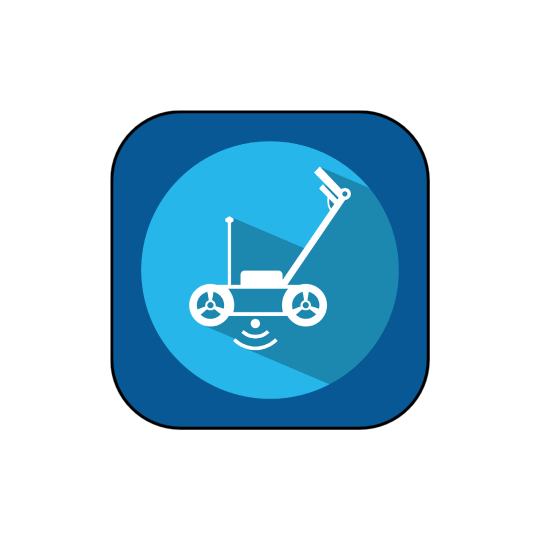 Call For a Quote:
780-467-1606
EXPECT YOUR UTILITY LOCATING CONTRACTORS TO PROVIDE MORE
CONTACT ALBERTA'S UTILITY LOCATING PROFESSIONALS
There are many different technology options available, and each has its own ideal applications, methods, required experience and training, and limitations. Ask if your service provider performs blind sweeps. Ask about their procedures. Ask for drawings.
These days, locating underground utilities also involves database research, the ability to access remote sites and facilities with stringent access pre-qualifications, as well as being able to produce reports and drawings ranging from field markings and sketches to GIS maps with positional accuracy.
We have the tools, experience, and diligence to locate utilities for Alberta's industrial, commercial, environmental, and residential sectors.
Depending on the job scope, budget, and other requirements, there are a range of technology and reporting options available.
Typical utility locating jobs performed by Maverick include:
Locates for Environmental Phase I & II boreholes
Ground-disturbance permits for major oil & gas facilities
Ground-breaking Greenfield construction
Pre-construction planning and development
Installation of new facilities into existing sites
Pipeline route selections
Pipeline road crossing void mapping
Underground storage tank locates
Locates for trouble-shooting and repairs of damaged utilities
Private utility locates for small business and home owners
Concrete scanning for hazards prior to cutting or coring
Facility-wide subsurface locating and mapping
Incident investigation support
ASK FOR LOCATING WITH A WIDE RANGE OF TECHNOLOGIES AND METHODS
Maverick combines traditional electromagnetic utility detection (EM) with technology such as ground-penetrating radar (GPR), acoustics, infrared, and remote video camera inspection (RVI or CCTV inspection).
The deployment platforms, data gathering methods, analysis, reporting, and all other aspects are specifically tailored to the individual job scope. Some of these options include:
Targeted private utility locates for known lines visibly extending into the ground from the surface. This could include natural gas, power, telephone, process or control lines.
EM blind sweeps for locating known metallic lines, or lines with tracers which are not accessible from your location. This type of work is also done surrounding borehole locations or other ground disturbances to avoid contacting underground utilities.
Specifically targeted sweeps at 60Hz, and cathodic protection (CPS) frequencies, to further reduce the risk of striking underground power and process lines.
Inserting CSA rated explosion-proof camera systems for tracking and inspecting buried drainage, utility, or process piping.
We want to answer any questions about utility locating that you have. Drop us a line.
What is EM (Electromagnetic Locating)?
It utilizes a transmitter to iduce a wide range of alternating eletrical currents into a conductive utility. A receiver is then used to process the signal being transmitted and localizes the position of the utility. In some cases, a tranmitter is not needed and the receiver can search for specific frequencies (which is known as passive locating).
Can I dig without an Alberta One Call?
No, you must place and wait for all Alberta One Call responses prior to performing any ground disturbance. A private locate is not a replacement for an Alberta One Call.
Doesn't Alberta One Call mark all the buried facilities in my work area?
No, Alberta One Call will only mark primary power and gas from the main lines up to the sites meter location.  Only main storm and sanitary lines will be marked by Alberta One Call, service lines into the site are all considered private.  Water lines will be marked from the water mains to the water CC. From the water CC to the site is considered private. Alberta One Call does not mark private facilities.
What can EM line locating equipment locate?
EM locating equipment can only trace conductive linear facilities.
Can EM locators give depths on buried facilities?
There is no specific plus or minus accuracy measurement. A number of factors could play into the accuracy of the line locates. EM distortion caused by other buried facilities or above ground conductive structures can manipulate the signal and cause inaccurate ground markings. For this reason, all buried facilities within the work area should always be daylighted.
How accurate is EM locating?
There is no specific plus or minus accuracy measurement. A number of factors could play into the accuracy of the line locates. EM distortion caused by other buried facilities or above ground conductive structures can manipulate the signal and cause inaccurate ground markings. For this reason, all buried facilities within the work area should always be daylighted.
If the majority of storm, sanitary and water lines are made of non-conductive materials, how are they traced using EM technology?
There are two methods for locating non-conductive buried facilities. The first is tracer wire. When the facility was installed, the contractor installing the facility may have also installed a tracer wire which runs along side the buried facility. This tracer wire must be visible and accessible. Technicians will use direct connect methods to induce a signal into the wire. This is commonly seen on polyethylene gas lines. The second method is to use an inductive push rod. An inductive push rod will be pushed inside the drain, empty conduit, or depressurised water line and direct connect methods will be used to trace a signal on the inductive push rod. If a water line can not be depressurised, Maverick offers another type of locating call Acoustic locating. For more information about acoustic line locating, please contact Maverick.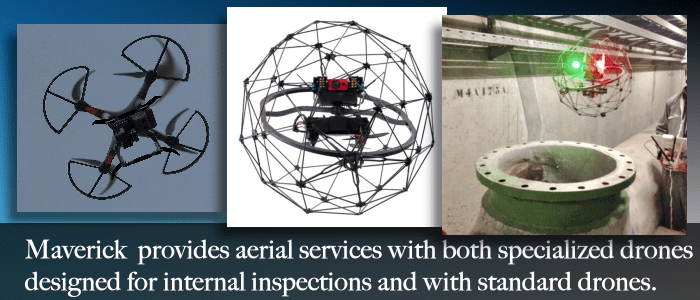 Drone, RPAS and Unmanned Aerial Vehicles
Use drones to navigate into spaces that are inhospitable to manned entry.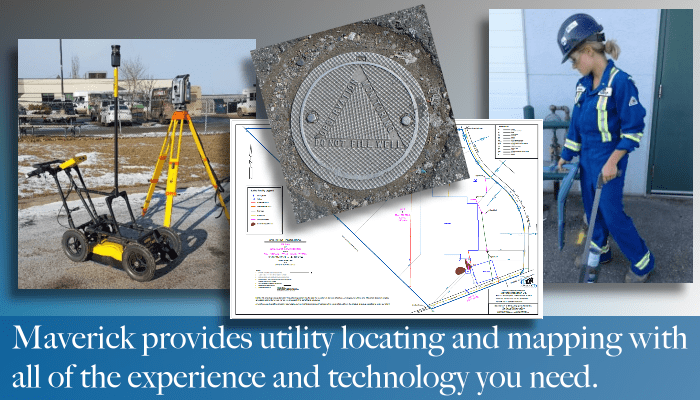 Utility Locating
Between Industrial, commercial and residential utility located Maverick Inspection Ltd. has the experience to get the job done right.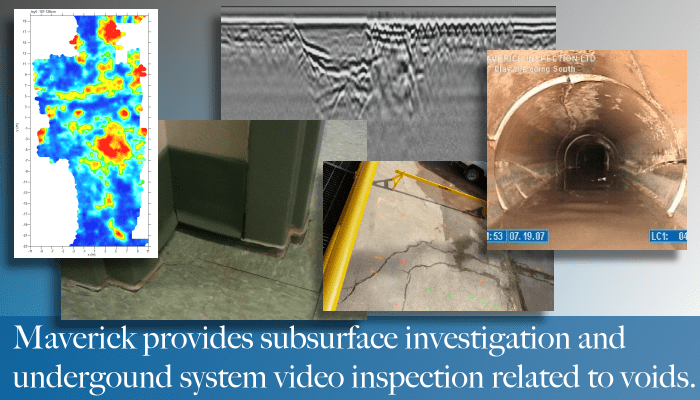 Remote Video Inspection
Use remote video inspection to enhance your sub surface inspection.